The were winners of our Employee Service Awards were announced at the LSCU All Staff Training held on January 15, 2018. The three annual service awards given are Branch of the Year, Employee of the Year and the Sales Excellence Award. We are excited to recognize this year's recipients for their success in the 2017 business year.
2017 Branch of the Year - Terrell
Our Terrell Branch employees (pictured above) were recognized for not only meeting, but exceeding their annual production goals. Overall, they achieved 133% of the goals for 2017.
2017 Sales Excellence Winner - Laurie Parnell
The 2017 Sales Excellence recipient is Laurie Parnell, Terrell Financial Service Officer II. Laurie not only met all 5 production goals, but exceeded her goals by 153%. She also assisted Members loans totaling $4.48 Million over the course of 2017 and was the credit unions top producer of credit life and credit disability insurance.
2017 Employee of the Year - Alli Rodriguez
Our Employee of the Year is nominated by management and the candidates are voted on by all staff. The 2017 Employee of the Year recipient is Alli Rodriguez, LSCU Staff Trainer (pictured below). Alli was nominated for her work with LSCU's core system conversion that took place in June 2017. She was an integral part of not only moving the data from our old system to the new one but also was responsible for training all employees on the new system and creating all written procedures.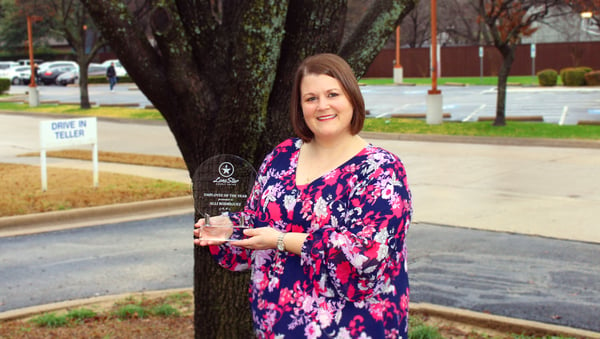 Pictured: Alli Rodriguez, LSCU 2017 Employee of the Year
Alli has been described by her co-workers as committed to helping others. She has formed lasting bonds with her others which allow her to be trusted and sought after for advice. Her knowledge, willingness to above and beyond what's required of her, and overall enthusiasm for the credit union are just a few ways she exhibits our values daily.
On behalf of Lone Star Credit Union, Congratulations to all our 2017 award recipients.